Sophie and Ryan are a couple in their mid-thirties with a pronounced taste for adventure, sailing around the world from 2016. With no previous experience, they quickly became experienced sailors who are sharing their adventures and entertaining us on a frequent basis on their YouTube Channel.
At the time this story was written they were in USA near Washington DC but who knows where the wind has gotten them by now!
Nice to meet you, SIlic One
But back to the Silic One application story – after extensive research, Ryan decided they will paint their Beneteau Oceanis 40 sailing boat, Polar Seal, with Hempel's Silic One Fouling Release System all by themselves. It took them just 2 days to apply the whole system on the boat and the third day Polar Seal was ready for the next sailing adventure!
You can see the whole video about the Silic One application on Sophie&Ryan's sailing boat on this video here.
What happened after 2 years?
From September 2020 until summer 2022 Polar Seal was in the water for the whole time, and for a significant amount of time was anchored in the marinas. Ryan is saying in the video below the first year there was no fouling attached in the boat underwater area, and only after a year and a half of a sailing experience they have started to experience some growth.
"It is a real game changer! This paint (Silic One) is 10 out of 10 in my book!"
Ryan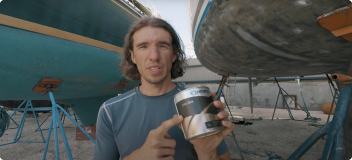 We are very happy Sophie and Ryan have used our SIlic One Fouling Release System on their boat and have recognized Hempel's leadership in offering sustainable solutions for the environment.
Sophie and Ryan, we wish you all the best, may you have fair winds and following seas on your journey.